Asterisk PBX and VoIP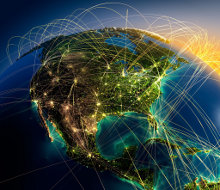 Traditional Phone PBX systems are dinosaurs. The world has left them behind and moved to Voice over Internet Protocol (VoIP). Whether in the office or at home, VoIP is transforming our telecommunications industry. There is a large push by AT&T and Verizon to have the FCC set a sunset date when the old analog PSTN/POTS networks can be deactivated and all communications go over IP based networks.
The business phone industry has moved away from proprietary phone connections to using IP based networks. However, most of these providers such as Cisco, Avaya, Shortel, etc. still push you to use their somewhat proprietary expensive phones. These providers are very proud of their software and hardware and you can expect to pay tens of thousands of dollars for the privilege of using them.
Asterisk is an Open Source (free) PBX written by a company called Digium. Asterisk has since grown into what is arguably one of the most powerful and flexible PBX packages on the planet. With the Open Source community contributing so many features to Asterisk, it's capabilities have just become amazing. Now you can use almost any inexpensive standard compliant SIP phones from a variety of manufacturers such as Polycom. Asterisk is a software package that runs on Linux and as such, and can be installed on an inexpensive server.
Once you have a server running Asterisk, you can choose either to use the traditional business circuit from the local Bell such as a PRI (expensive), or you can now use virtual business trunk providers using VoIP and SIP. Imagine no longer having any kind of contracts for phone service. There are so many options and cost savings associated with using VoIP, such as choosing an unlimited virtual PRI (unlimited channels) and just paying a flat 1.2 cents per minute with no minimum monthly charge. If you do not see your business using more than few channels at a time, you can choose to pay a flat rate of $6.95 per channel for unlimited incoming calls. These are just a few options available from a single provider called FlowRoute. There are many more options and providers available so you have plenty to choose from. Asterisk can provide you with many options.
Asterisk can be set up with just a simple text editor or you can use powerful front ends such as FreePBX. Asterisk configuration possibilities are just tremendous. You can use Asterisk for ten phones or scale to thousands of phones. You can implement call centers, conference rooms, virtual FAX machines for every user, SIP/IAX calling from your mobile phone, and that only touches the surface of what Asterisk can do for your business.